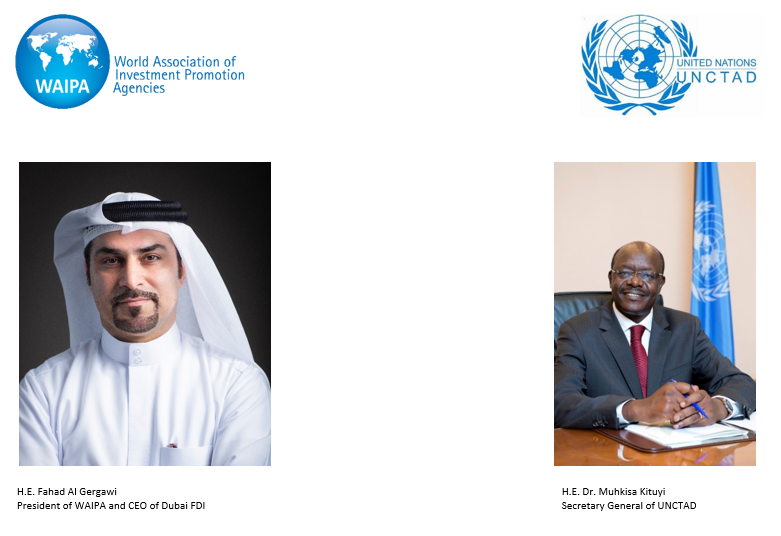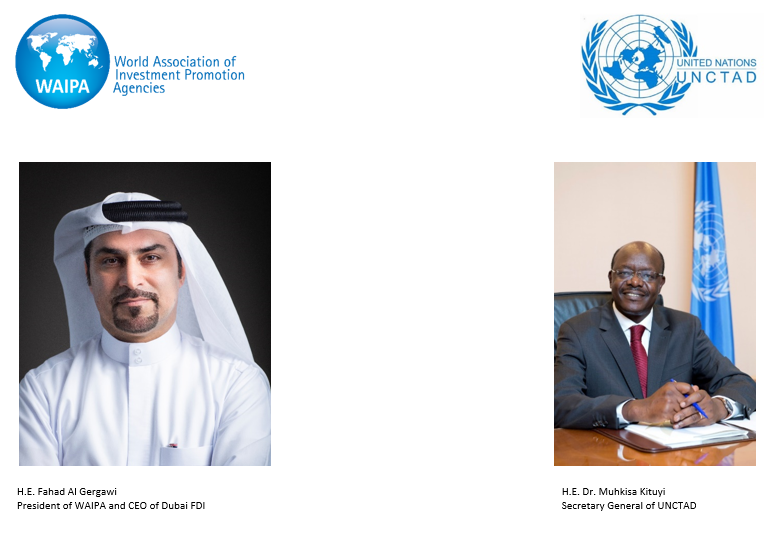 UNCTAD: IPAs Role is fundamental for Covid-19 FDI Recovery & Future Growth
On 10 June 2020, the World Association of Investment Promotion Agencies (WAIPA) and the United Nations Conference on Trade and Development (UNCTAD) held a high-level meeting to discuss the impact of COVID-19 on investment promotion agencies (IPAs), the role of IPAs in the economic recovery, and ways in which WAIPA and UNCTAD can collaborate in support of investment in sustainable development.
The virtual meeting between the President of WAIPA, H.E. Fahad Al-Gergawi, and the Secretary General of UNCTAD, H.E. Dr. Mukhisa Kituyi, was part of an ongoing dialogue and close cooperation between the two organizations. The WAIPA President highlighted the importance of using each other's synergies when he stated, "We have more responsibility than ever as WAIPA and collaboration with UNCTAD for the benefit of our members is of the utmost importance for our association."
The UNCTAD Secretary General underlined this strong collaboration and said "We consider WAIPA as a member of our family. I see our roles as very complimentary and the partnership will put a light on the important role ahead of us". Dr. Kituyi also referred to the importance of joining forces in December 2020 when both organizations will hold their flagship conferences, the UNCTAD World Investment Forum 2020 and WAIPA's 25thWorld Investment Conference parallel in Abu Dhabi, United Arab Emirates.
Mr. Al-Gergawi and Dr. Kituyi discussed collaboration in support to IPAs and their governments during the COVID-19 crisis and its aftermath. "… IPAs should find smart and innovative ways to gain relevance and competitiveness in attracting investment for sustainable development. Hence the role of your association to sensitize your member organizations on their tasks and challenges ahead." said Dr. Kituyi highlighting the important role of IPAs. The WAIPA President reiterated the importance of cooperation by stating that "FDI is decreasing and we can only bring it back through cooperation and a collective mindset. We aim to bring our collaboration with UNCTAD to a higher level with new projects for the common benefit of the FDI community and our members." Both parties agreed on the role that IPAs could play in the post-COVID-19 recovery phase and in attracting investment for sustainable development, particularly in least developed countries.
###
The World Association of Investment Promotion Agencies (WAIPA) is a non-governmental organization that was established under the auspices of the UNCTAD in Geneva 1995 as an association under the Swiss law. WAIPA serves as a platform for its members and represents an ever-growing number of IPAs. Through its wide range of activities, WAIPA provides the opportunity for IPAs to network and exchange best practices in investment promotion. UNCTAD is a member of WAIPA's Consultative Committee.
UNCTAD, through its Division on Investment and Enterprise, promotes understanding of key issues related to foreign direct investment and enterprise development. UNCTAD also assist developing countries in enhancing their productive capacities and international competitiveness through the integrated treatment of investment, trade and enterprise development.