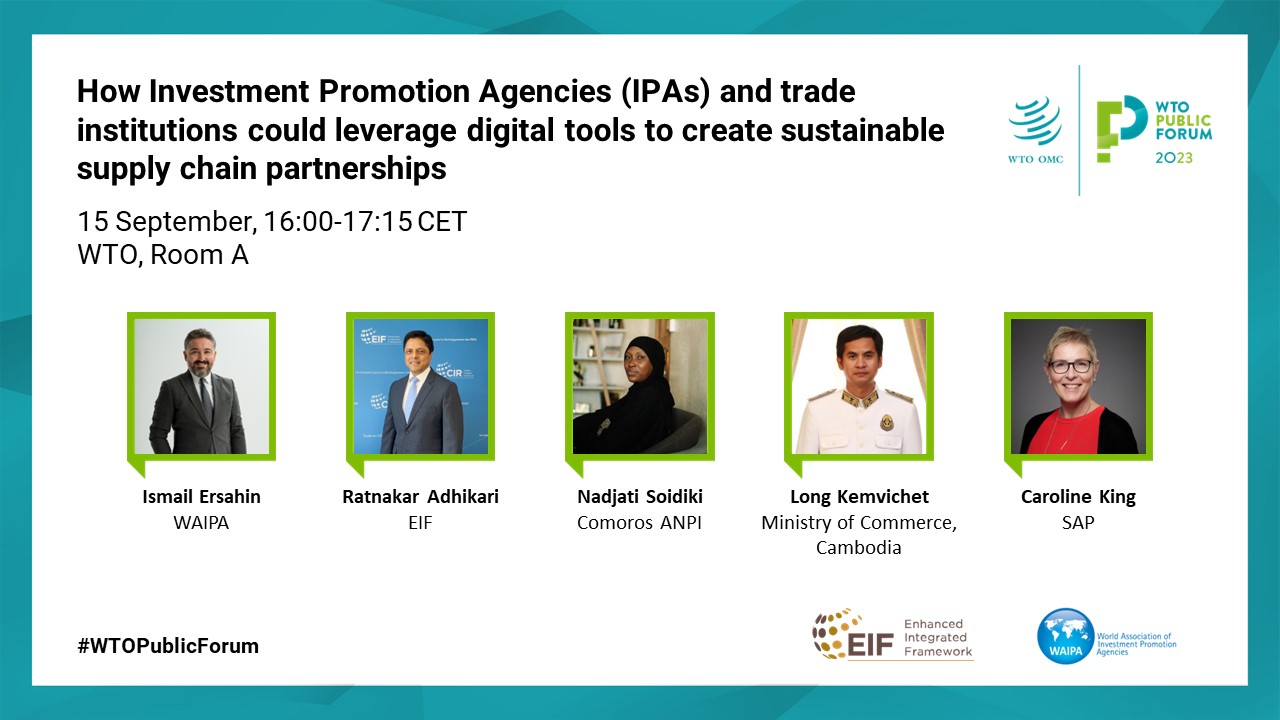 EIF & WAIPA at WTO Public Forum
Digitalisation as a tool for the greening of supply chains
WAIPA – EIF How Investment Promotion Agencies (IPAs) and trade institutions could leverage digital tools to create sustainable supply chain partnerships
Investment and trade are engines for development, job creation and poverty reduction. With the advancement of digital tools and technologies government agencies responsible for trade and investments are able to further expand their reach and value by promoting and facilitating sustainable investments and thus also to a greening of supply chains. They can do that via a range of means such as providing information, connecting investors, and fostering partnerships. This session will therefore examine what tools are currently being used and how digital platforms can leverage outreach and support data-driven analysis for more sustainable development, particularly in developing countries and least developed countries (LDCs). It moreover will provide participants with a clear menu on how to implement these tools via showcasing successful implementations and global best practices.
Moderator:
• Mr. Ismail Ersahin, CEO – Executive Director, World Association of Investment Promotion Agencies (WAIPA)
​Panelists:
• Mr. Ratnakar Adhikari, Executive Director, Enhanced Integrated Framework (EIF)
• Ms. Nadjati Soidiki, Director General, National Investment Promotion Agency (Anpi) Comoros
• Mr. Long Kemvichet, Director General for International Trade, Ministry of Commerce, Cambodia
• Ms. Caroline King, Global Head of Government Affairs, Business Development, SAP
Note: if you have registered for the WTO Public Forum and if you are interested to attend at this particular session, kindly get in touch with [email protected] for more details.