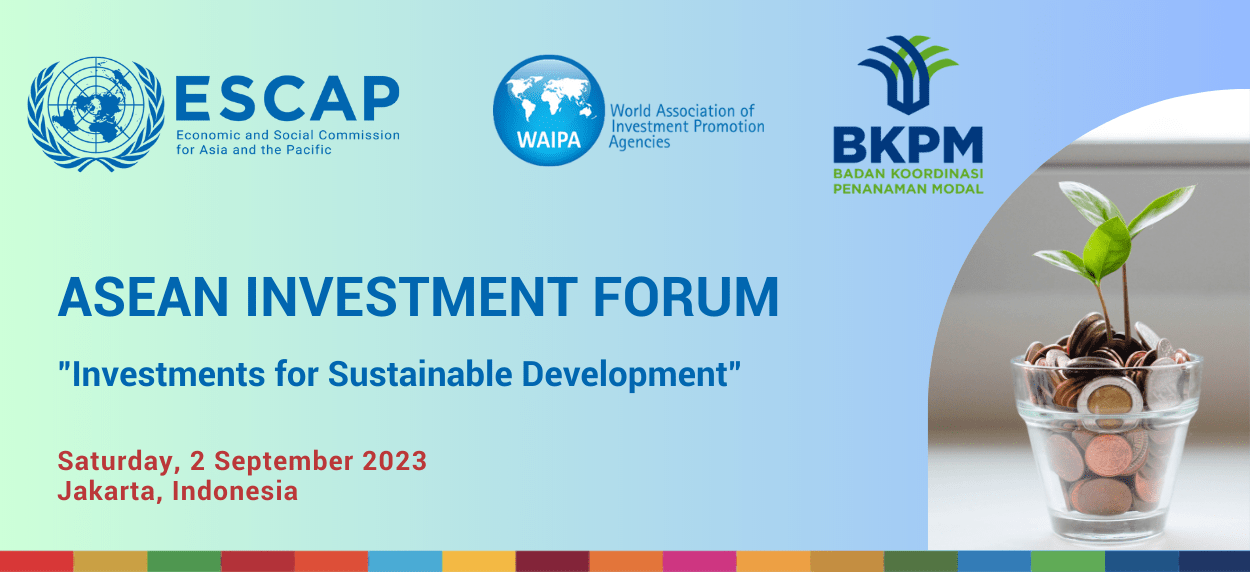 Investments for Sustainable Development
Brief
Organized by United Nations ESCAP, together with The ASEAN Secretariat, the Ministry of Investment / Indonesia Investment Coordinating Board (BKPM) and the World Association of Investment Promotion Agencies (WAIPA), the "Investments for Sustainable Development" forum will be held on 2nd of September at the Sultan Hotel in Jakarta, Indonesia.
The goal of the forum is to feature current investment opportunities in ASEAN to foreign direct investors that will contribute to inclusive and sustainable development. Sustainable investments will assist in improving ASEAN countries' economies and their ability to overcome and deal with future shocks, as The ASEAN Comprehensive Recovery Framework (ACRF) recognizes.
This event has three parts:
The main forum which will be held in a hybrid format,
an exhibition area in the venue featuring booths to showcase investment opportunities in ASEAN (meeting rooms to also be set up to facilitate meetings between investors and companies looking for investment),
and a networking dinner.
The event is for:
Investors and representatives from the private sector (investors), investment promotion agencies, governments, international organizations, business councils and chambers, other members of the private sector, and the media. About 250-300 in person participants are expected.
Registration: To register please click HERE.