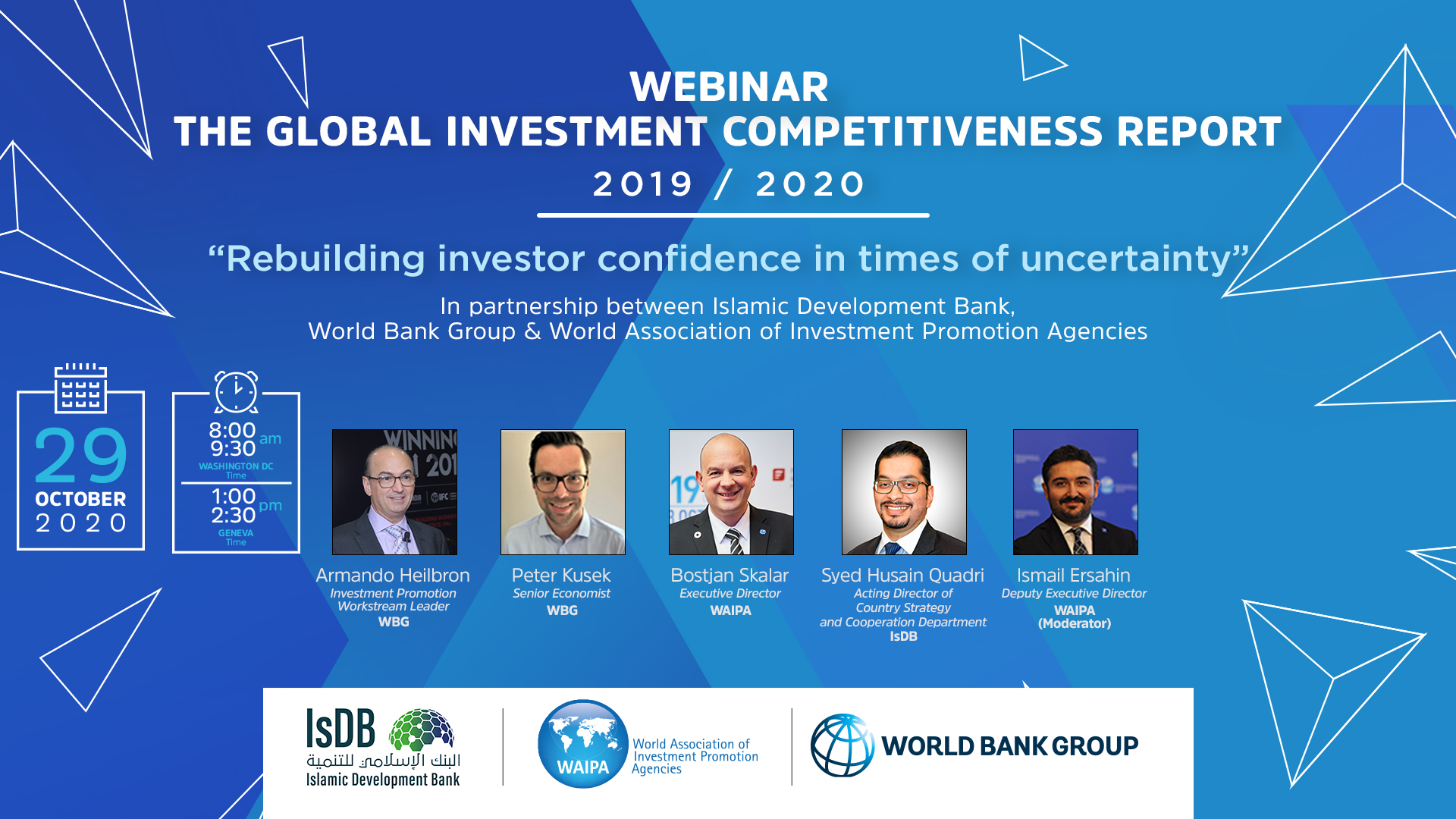 IsDB – WBG – WAIPA Webinar: The Global Investment Competitiveness Report 2019/2020 "Rebuilding investor confidence in times of uncertainty"
The World Bank's Global Investment Competitiveness Report 2019/2020 provides novel analytical insights, empirical evidence, and actionable recommendations for governments seeking to rebuild investor confidence in times of uncertainty. It focuses on the role of foreign direct investment (FDI) in alleviating the impact of the COVID-19 crisis and boosting countries' economic resilience. It highlights FDI's contributions to providing a critical source of external finance, creating jobs, lifting people out of poverty, and raising productivity.
The report presents results of a survey of more than 2,400 business executives representing multinational corporations in 10 large developing countries: Brazil, China, India, Indonesia, Malaysia, Mexico, Nigeria, Thailand, Turkey, and Vietnam. Results of the survey, as well as the report's new global database of regulatory risk, highlight the critical role of government actions in reducing investor risk and increasing policy predictability for rebuilding investor confidence.
The report also assesses the impact of FDI on poverty, inequality, employment, and business performance using firm- and household-level evidence from various countries. It shows that FDI in developing countries yields benefits to firms and workers—including more and better-paid jobs—but governments need to remain vigilant about possible adverse consequences on income distribution. Lastly, the report articulates priorities for investment promotion agencies and other stakeholders seeking to strengthen their countries' investment competitiveness and leverage FDI for a robust economic recovery.
This is a critical time for FDI and for IPAs, and countries may have to seek creative ways to expand and sustain investment where possible. IPAs have a crucial role to contribute by guiding and supporting the discussions with investors and governments which can lead to new and innovative forms of investment leading to increased inflow of FDI.
The launch of the Global Investment Competitiveness Report 2019/2020 is a timely opportunity to involve WAIPA & OIC member IPAs in a discussion on the key findings of the report. The aim of this webinar is to engage the high-ranking participants in a discussion on the current pressing issues for their agencies, as well as investment promotion strategies beyond the Covid-19 global crisis and to disseminate the findings of the GICR 2019/2020 to a larger audience.
After the keynotes from WAIPA and IsDB, Armando Heilbron and Peter Kusek from WBG will deliver a high-level presentation of the GICR 2019/2020. Finally, the floor will be opened for a Q&A session between the joining parties.