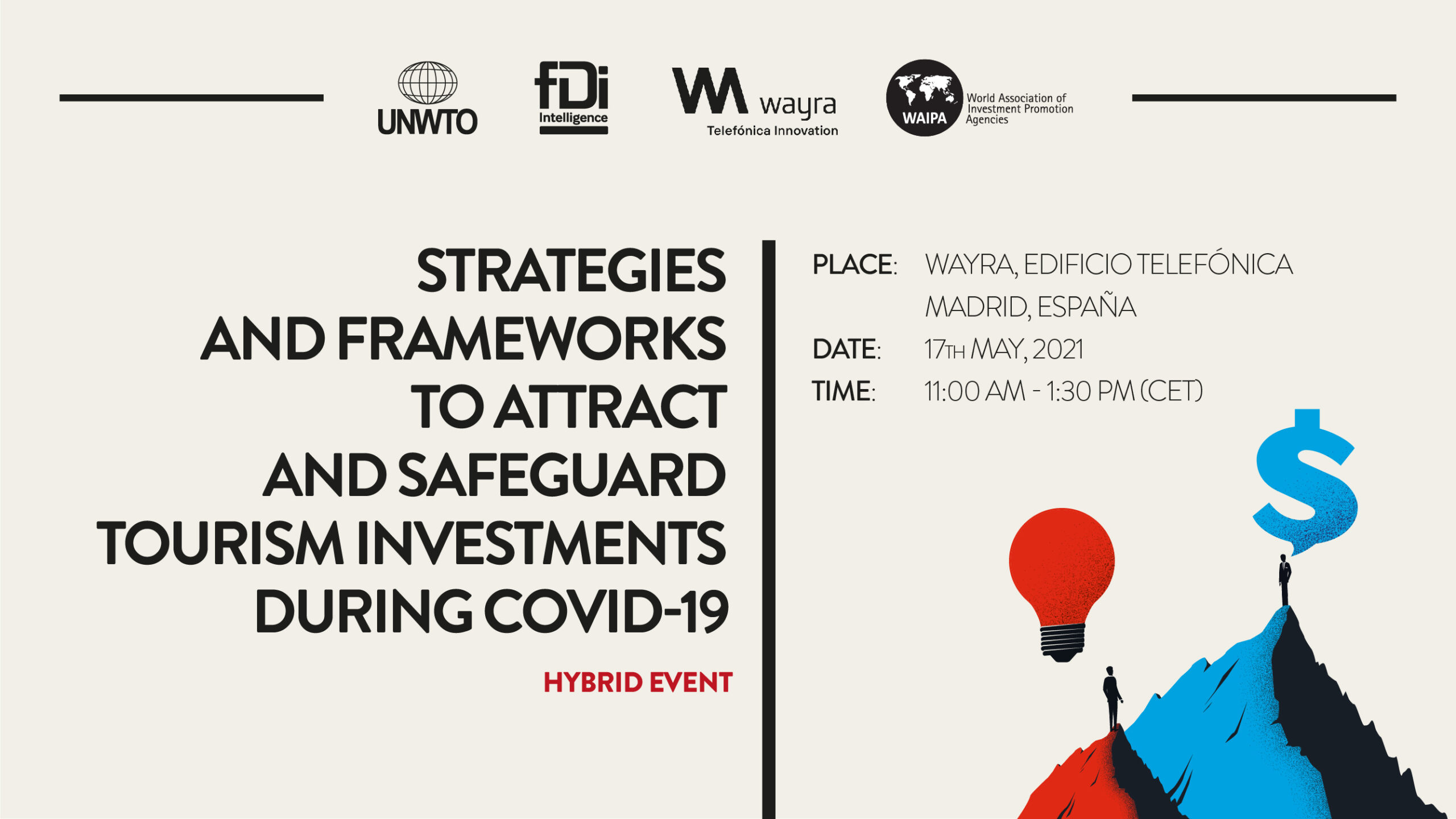 UNWTO-WAIPA Webinar: Strategies and Frameworks to Attract and Safeguard Tourism Investments during COVID-19
WAIPA and its Consultative Committee member UNWTO are pleased to invite you to a specialized capacity-building sessions which will focus on frameworks and practical digital tools to improve your competitiveness in regards to attraction and promotion of foreign direct investment (FDI) to your region and country as we recover from the COVID-19 pandemic.
The exclusive sessions, organized within the framework of FITUR,  will provide relevant data insights and practical strategies to safeguard investments for a sustainable recovery bringing all the expertise from WAIPA. In addition to those strategic frameworks, it will provide exclusive access to digital platforms to attract and promote investments in collaboration with the fDi Intelligence from the Financial Times offering solid strategic foundations concerning investment attraction and promotion to mitigate the impact of the COVID-19 pandemic, but also new investment opportunities like Corporate Venturing models presented by Wayra Telefonica to accelerate innovation and digitalization for a faster recovery.
The event will be delivered in a hybrid format live and via Zoom. Please note that due to COVID-19 restrictions, there are limited places for physical attendance, we strongly recommend you register to reserve your seat in the following link.
Please consider the follow information:
Date: 17th May 2021
Time: 11:00 AM to 01:30 PM CET Madrid Time (Please be aware of your time zone)
Language: English
Format: Hybrid (Physical attendance at Wayra Telefonica – Madrid / Virtual attendance via ZOOM)
Bostjan Skalar , CEO at World Association of Investment Promotion Agencies (WAIPA), "Strategies to Safeguard Tourism Investments during COVID-19"
Sarah Russis, Head of Global Sales at fDi Intelligence, Financial Times, "Digital Platforms to enable tourism investments during COVID-19"
Natalia Bayona, Director Innovation, Education and Investments at UNWTO "Enabling Frameworks for Tourism Investments during COVID-19"
Agustín Moro, Business Development and Strategic Partnerships at Wayra Telefonica "Corporate Venturing Models to Accelerate Tourism Recovery
For any further questions, kindly contact: [email protected] or visit the official event website here