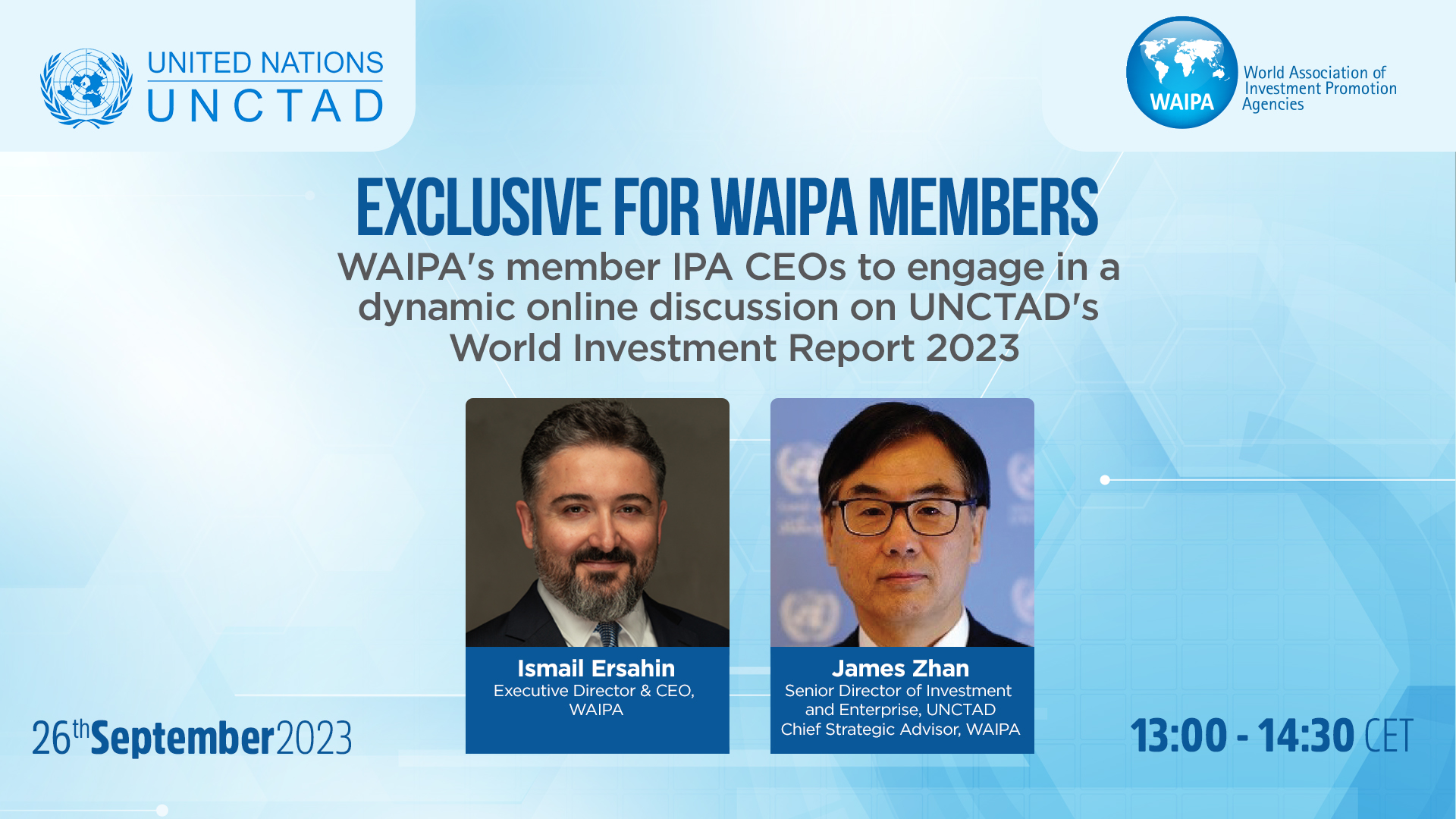 WAIPA – UNCTAD round table discussion on the key findings of the WIR 2023
We are delighted to invite you to join us for this year's exclusive annual WAIPA's member IPA CEOs meeting focused on the UNCTAD World Investment Report 2023.
The World Investment Report 2023 UNCTAD's World Investment Report 2023 reveals a widening annual investment deficit that developing countries face as they work to achieve the Sustainable Development Goals (SDGs) by 2030. The gap is now about $4 trillion per year – up from $2.5 trillion in 2015 when the SDGs were adopted.  The report shows that global FDI fell 12% in 2022 and analyses how investment policy and capital market trends impact investment in the SDGs, particularly in clean energy. The report calls for urgent support to developing countries to enable them to attract significantly more investment for their transition to clean energy. It proposes a compact setting out priority actions, ranging from financing mechanisms to investment policies, to ensure sustainable energy for all.
This high-level gathering has been each year curated exclusively for WAIPA member IPAs, offering you an opportunity to gain in-depth knowledge about emerging trends and the global investment landscape, thereby enhancing your investment promotion strategies.
The report's presentation will be delivered by Mr. James Zhan, Director of Investment and Enterprise at the United Nations Conference on Trade and Development (UNCTAD) and Chief Strategic Adviser to WAIPA. Following the presentation, we will open the floor for a dynamic discussion among esteemed participants, fostering an engagement on the most pressing issues in investment promotion today.
Your presence and contributions will enrich this annual gathering, and we look forward to your participation.
Please note that attendance at this exclusive event is by invitation only and is limited to the WAIPA's member IPA CEOs and one accompanying officer. Kindly confirm your participation with  contact details by email to [email protected] no later than 22th September 2023.
You can access the World Investment Report 2022 for your reference through the following link: World Investment Report 2023