EIF Global Forum: Learning from country experiences
Thematic Session 5: Private sector engagement and regional integration
On 12th September, WAIPA had an incredible opportunity to participate in the WTO Public Forum with Enhanced Integrated Framework (EIF) on the theme of Private sector engagement and regional integration. The CEO and Executive Director, Mr. Ismail Ersahin had an opportunity to share with the audience the main lessons learned from WAIPA implementation of EIF projects in terms of private sector engagement in investment promotion capacity building.
The CEO highlighted the increasing importance of IPAs, especially after the pandemic in bridging the gap between the government and investors. IPAs are one of the most crucial sources of information enabling the government to develop frameworks that support the growth of the investor community. Additionally, he emphasized the need for aftercare services to elevate investor satisfaction.
Despite multiple challenges, IPAs prove to be essential for investors due to their extensive networks within the government and ministries and their guaranteed awareness of the existing regulations. Indeed, the CEO recognized the stark contrast in IPAs from the developed countries versus the developing and least developed countries. In WAIPA's experience, IPAs of LDC's, especially are challenged on multiple fronts due to lack of resources and funding. However, integration of private sector engagement and promotion of PPP is key to strengthening the investment infrastructure in the economy.
It is also worthy to note that it is essential to improve the ease of doing business, reducing bureaucratic red taping, streamlining regulations and developing a legal and regulatory framework to ensure a sound development of investment infrastructure.
Therefore, at WAIPA along with EIF, we are trying to strengthen government agencies responsible for investment promotion and facilitation and continuously increase our collaborations with the private sector. Additionally, we aim to attract impact investors and sustainable and environmentally friendly business practices.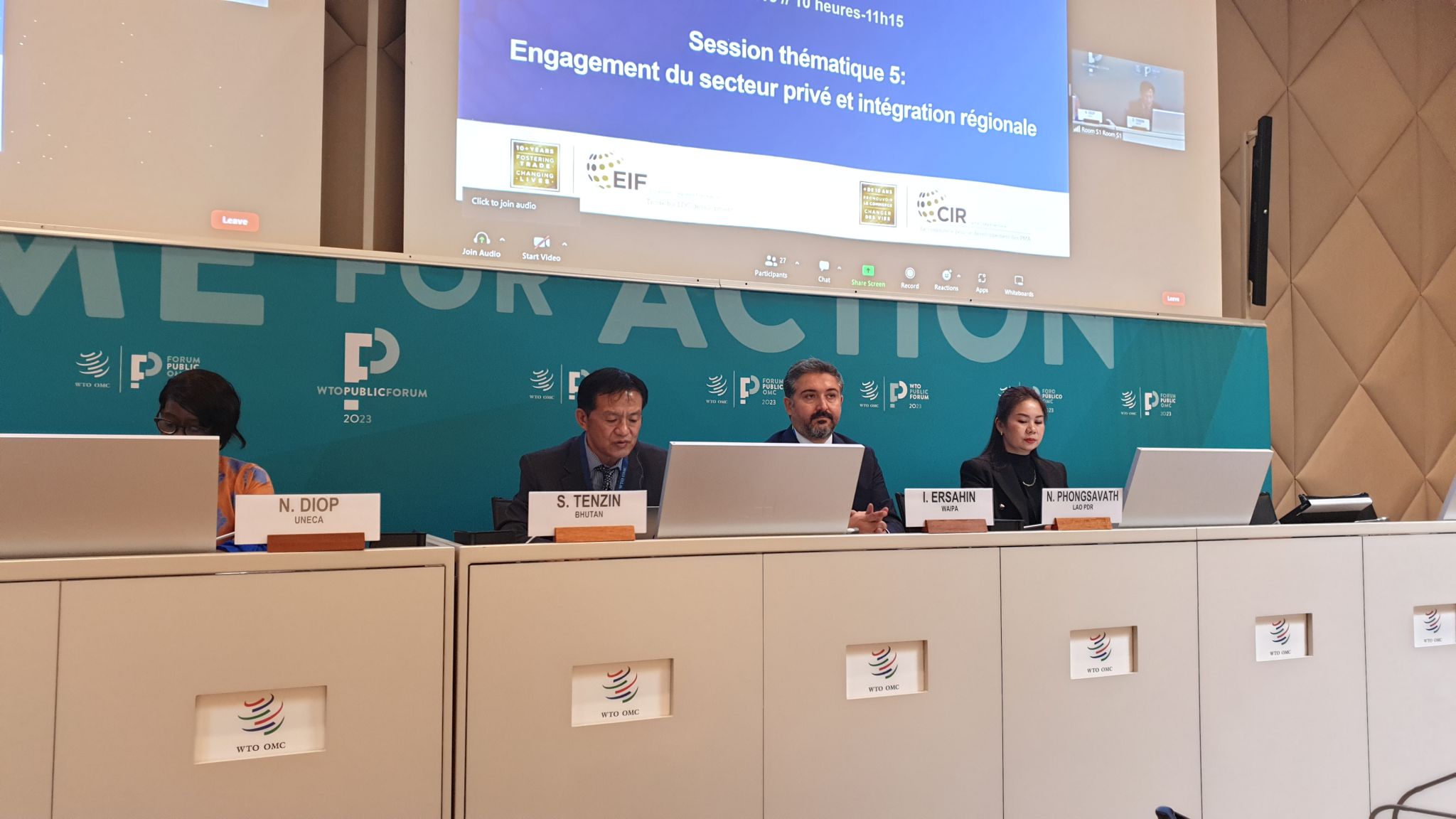 WAIPA – EIF Session: Digitalization as a tool for the greening of supply chains
On 15th September 2023, WAIPA had an opportunity to co-host a panel discussion with Enhanced Integrated Framework (EIF) on 'How Investment Promotion Agencies (IPAs) and trade institutions could leverage digital tools to create sustainable supply chain partnerships'. The topic is of significant relevance due to the rapid advancement of digital technologies in facilitating and promoting sustainable investments and especially greener supply chains. The discussion featured esteemed panelists: Mr. Ratnakar Adhikari, Executive Director, EIF, Ms. Nadjati Soidiki, Director General, National Investment promotion Agency (Comoros), Mr. Long Kemvichet, Director General for International Trade, Ministry of Commerce (Cambodia) and Ms. Caroline Kind, Global Head of Government Affairs, Business Development, SAP. Our CEO and Executive Director, Mr. Ismail Ersahin had the honor of moderating the panel discussion. This session therefore examined what tools are currently being used and how digital platforms can leverage outreach and support data-driven analysis for more sustainable development, particularly in developing and least developing countries.
The discussion during the session served as a comprehensive guide for participants, showcasing successful digital tool implementations and global best practices. Additionally, the session highlighted noteworthy initiatives and efforts to enhance collaboration between foreign firms and local suppliers, advancing sustainability in supply chains. Insights from international organizations and the private sector were shared, offering valuable perspectives on successful actions in this realm.
The panel discussion covered various aspects of enhancing sustainability in supply chains and navigating regulatory changes for businesses in different regions. Mr. Adhikari emphasized the importance of digitalization in international trade, particularly for Least Developed Countries (LDCs). Specific digitalization tools, though not mentioned, are instrumental in improving supply chain sustainability.
Ms. Soidiki, an expert in business law, highlighted the significance of adapting to evolving regulations for ANPI Comoros. She stressed that streamlining legal processes through digitalization is crucial for creating an investor-friendly environment. However, specific tools or strategies were not specified.
Mr. Long discussed Cambodia's commitment to climate goals in light of its vulnerability to climate change. While specific actions taken by the Cambodian government weren't detailed, the alignment with greener regulations and international agreements like ASEAN was emphasized.
Ms. King, with expertise in corporate social responsibility (CSR), assessed the role of the private sector in collaborating with government bodies, including Investment Promotion Agencies (IPAs) and trade bodies. She highlighted instances where such collaboration has successfully propelled sustainability initiatives, particularly in the context of supply chain sustainability and its impact on climate. However, specific examples were not provided.
Overall, the panelists emphasized the importance of digitalization, legal adaptability, and collaborative efforts between public and private sectors in achieving sustainability goals in various regions and industries.